[g5plus_heading title="About Sumer Metal Industries Private Limited" align="text-left"]
Sumer Metal Industries Private Limited is one of the leading Stockist, Importer, and Exporters of Jindal Stainless Steel Sheets, Plates, Coils & Apollo Mild Steel Pipes. With the head office in Mumbai, Sumer Metal Industries Private Limited is devoted to providing top quality and serviceability to all its customers with little cause time. We have an excellent Sourcing with the Stockholders of various items, as per the specifications of the customers. Thus we are able to improve the aspects of dedication and top quality.
An ISO 9001: 2015 certified company, we are a private limited firm with involved business operations run by Mr. Ashok Jain, who has with him rich industry experience in involved area of operations.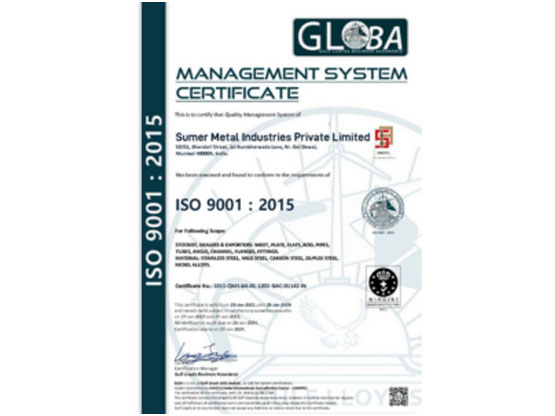 Quality
Sumer Metal Industries Private Limited makes an effort to justify their customer delight commitment by adhering to a high standard of quality from the procurement of raw materials to the finished product. We provide products that meet all applicable requirements, whether they be national or international. We Ensure that metal parts can operate reliably and in compliance with the required accreditations.
Excellance
Our primary priority is quality. Our motivated workforce and sound infrastructure enable us to maintain high quality standards. We employ only the highest quality materials in our goods. Along with the delivery, we provide a Materials Test Certificate to confirm the quality of each material. Our team of professionals keeps a close eye on the products' quality.
Worldwide Coverage
We work with the best clients all around the world and have expanded our business to the Zimbabwe, Hong Kong, Japan, Estonia, Peru, Bolivia, Serbia, France, Brazil, Poland, Finland, Puerto Rico, Netherlands, Ecuador, Afghanistan, Saudi Arabia, Costa Rica, Lithuania, Macau, Mexico, Colombia, Iran, Iran, Turkey, South Korea, Poland, Spain, Ireland, Italy, Belgium, Nigeria, Bhutan, Greece, United Kingdom, Philippines, Mongolia, Mexico, Russia, South Africa, Ukraine, Algeria, Jordan, Malaysia, Sweden, Argentina, Pakistan, Tibet, Australia, Lebanon, Chile, Trinidad & Tobago,Tunisia, Kenya, Ghana, Israel, Nigeria, Singapore, Germany, Thailand, Azerbaijan, Kazakhstan, Czech Republic, Slovakia, Libya, China, Iraq, Romania, Venezuela, Taiwan, Oman, Angola, Egypt, United Arab Emirates, Kuwait, Chile, Austria, Namibia, Gambia, Norway, Bangladesh, Sri Lanka, Yemen, United States, Croatia, Canada, Bahrain, India, Switzerland, Hungary, Qatar, Morocco, Bulgaria, Portugal, Denmark, New Zealand, Vietnam, Indonesia, Belarus, Gabon, Nepal, and many more countries.